Happy Friday! This week seemed long - that dang time change really messed with me at work. It was totally fine on Sunday, but then Monday, it started to hit me. I thought lunch was almost here, but it wasn't close, and then same with closing time. The struggle was real! We made it, though, and now it is time for the weekend. First up, some favorites for this Friday!
This post may contain affiliate links, meaning that any clicks/purchases may result in a few cents of commission at no additional cost to you.
1. Plaid plates. Many of you know I have a slight obsession with holiday plates. I just love them! And my collection continues to grow. I saw these plaid plates at Pottery Barn this past weekend, and knew I wanted them for my decorations this year. Unfortunately, they were not on sale at the time I saw them, but I kept checking back and finally, on Wednesday, they were on sale (and as of Thursday night when I am writing this, they are still on sale)! So I snagged a set of the dinner plates for my tablescape. I cannot wait for them to arrive!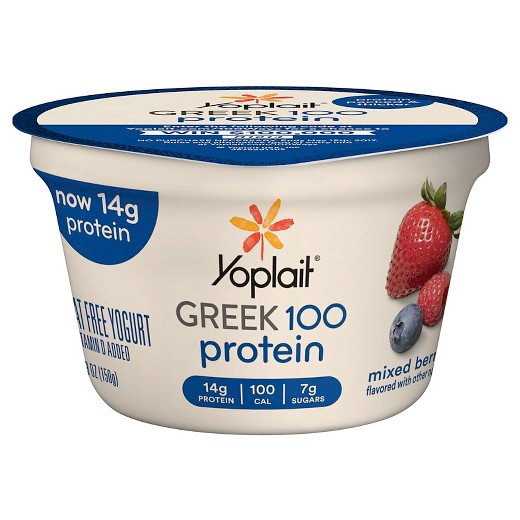 2. Yoplait Greek 100 Protein. If you are in need of a great yogurt, I highly suggest checking out Yoplait's Greek 100 Protein. I picked these up per my Femme Fit meal plan, and I have to tell you - they are so much better than just plain Greek yogurt! The consistency is great, too. It seems a bit thicker, and you don't have that water-y stuff you get with regular Greek yogurt. I have tried both the mixed berry and blueberry flavors, and both are really good, although I will say mixed berry has a tiny edge compared to the blueberry in my opinion. Either way, this yogurt tastes good and it's something you can feel good about eating, too!
3. Quest S'more Protein Bars. Another new favorite, thanks to my Femme Fit meal plan! I tried out some different flavors before settling on s'mores as my favorite. I also don't mind the chocolate chip cookie dough and the brownie, but I would recommend staying away from the cookies n cream - I struggled with that one! If you pop one of these bars in the microwave for 15-20 seconds, you'll get a yummy treat that seems indulgent, while actually being really good for you! There is a bit of that protein taste with these bars, but it's not too overpowering, especially when microwaved. I will have one of these during the day to hold me over at work when I am having one of those days where I am just so hungry, or after dinner as dessert.
4. Stair walking. Awhile ago, I shared some of my tips to stay active at work. You can see that post here. One of the tips was taking a break to move, one of the ways of moving being walking the stairs. I have done this on and off, but always failed to be consistent. However, I have been doing this little stair break everyday this week, and I have to tell you, it is been such a game changer. It's the perfect thing to combat the mid afternoon slump, that usually hits me an hour or two before work ends. I usually also start craving a snack at this time (due to hitting the slump and not actually being really hungry), and I find the stairs to be a great distraction.
5. Socks under tights. This is kind of odd (or maybe not?), but recently, I have started wearing my ankle athletic socks under my tights to work when I wear booties. I love wearing black tights with a flouncy skirt similar to this one from Loft, and then I pair that with black booties (similar booties). When I wore just my tights, my shoes weren't always that comfortable, but when I put socks on and then my tights, my shoes were sooo much better. Your foot has the soft, cushy sock, and then the tights over it kind of hold everything in place. I think I have worn this look at least once a week since it got cool enough to warrant tights.
Linking up with
Andrea
, Erika,
April
, and
Katie
.