I love to cook and bake, so it's no surprise that I also love all different types of kitchen gadgets. Take me to Crate & Barrel or William-Sonoma or pretty much anywhere with a bunch of kitchen / cooking goodies and you will have one happy girl. I love reading about others "must-haves" so I thought I would share some of my favorites with you (in particular order).
1. Batter Bowls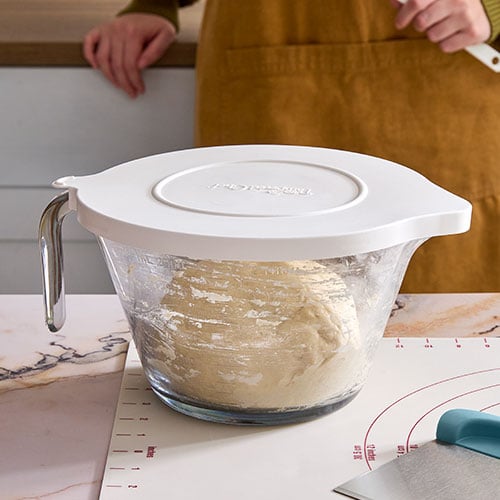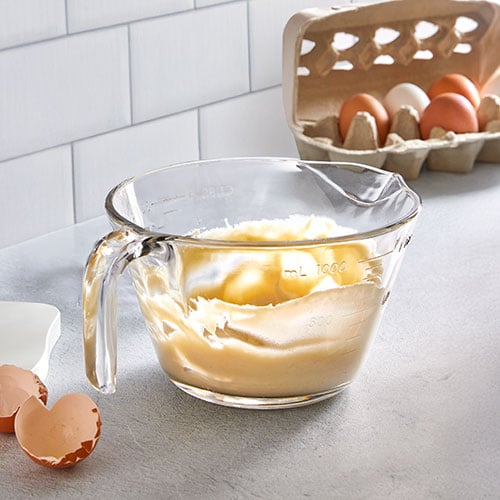 These bowls are the best. I have both the classic and small size and use at least one of them every week, if not multiple times. Mine are a bit older so they aren't exactly the same as what is pictured, but they are basically the same. They are great for measuring, mixing, storing - pretty much anything!
2. Multi Jar Opener
This is a lifesaver. As the name says, it is a multi way opener. I mostly use it for a bottle opener and a jar opener. So handy when you are by yourself and just cannot get that dang lid off!
3. Tongs
I decided I wanted tongs after watching The Pioneer Woman use them for pretty much everything on her show. After having them, I can definitely see why she uses them so often. They are so multi-functional. I have the large and small and use them both. One thing I really like about this particular brand is the easy open / close at the bottom, and the top part is nylon, which keeps them from scratching non-stick pots and pans.
4. Mix 'N Chop Tool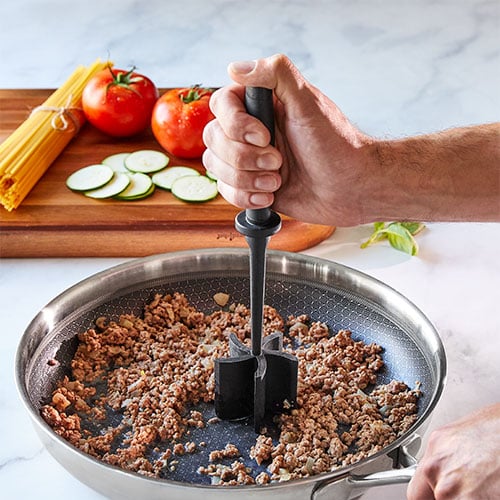 I think of this as the ground meat tool. It is the perfect thing to use when you are browning ground meat. You can really get the meat broken up nicely, so you don't have super big chunks. I actually didn't really like this utensil at first, but since I have been using it, I have definitely become a believer.
5. Box Grater
I love cheese, and you can't beat freshly grated cheese. Funny story, when I was little, I am pretty sure I used to complain on taco night when my mom would grate cheese. I wanted the bagged shredded cheese! Obviously I have changed my ways since then, because I almost always shred my own cheese now. I love that this grater came with a little box, although honestly, I usually just put a grater on a plate instead of using the box. It is handy if you are looking to get a specific amount, though, with measurements on the side. You can also use this for other things, although I mainly stick to grating cheese.
6. Cookie Scoop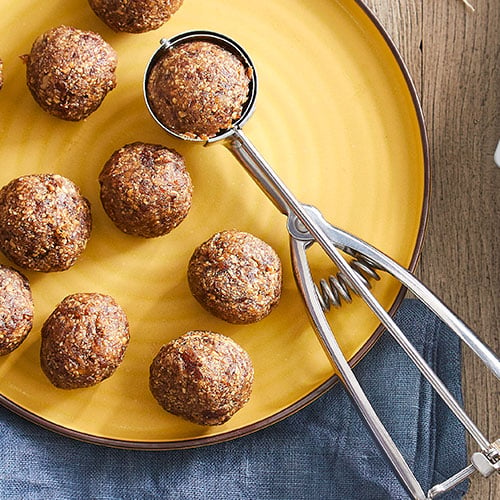 If you love to make cookies, you need this scoop. While it seems like a extra tool that you don't really need, it is just so nice to have. You get uniformed cookies, no messing with the dough - just easy peasy!
7. Measuring Spoons
I love these spoons. You get so many different sizes, which is perfect for when a recipe calls for an "off" measurement. They even come on a ring to keep them all together.
I highly suggest all these items if you are looking to get a head start on your Christmas shopping. I am pretty sure they all have been Christmas presents given to me over the years! I'd love to hear from you - what are your kitchen must-haves?
Linking up with Annie.