T
his post may contain affiliate links, meaning that any clicks/purchases may result in a small commission at no
additional cost to you
.
Hey all, happy Friday! As always, it is great to see the weekend.
A few favorites from the week...
I had my first taste of fall this week! I tried out Dunkin' Donuts Cinnamon Sugar Pumpkin Latte (ordered hot with no whip and skim milk), and it was delicious! And I broke open my
Hot Cinnamon Sunset tea
. I was craving it about a week ago, but told myself I needed to finish my
Wild Sweet Orange tea
first. I drank my last cup on Tuesday, so then it was go time. In other fall related news, Starbucks is set to release their Pumpkin Spice Latte on Tuesday. I cannot wait!
I added in something new to my morning routine, and while it's only been a few days, I can see it sticking. The last two years, a gratitude journal has been on my Christmas list. Last year I did pretty good with it for about half the year (give or take), filling it out before bed each night, and then this year, I started slacking off wayyyy sooner. I tried to get back on board, but that didn't last too long. I still really loved the idea of it, but doing it before bed was just not working for me. Often I would not be able to think of things at the end of the day from being tired and just ready for bed. It became a chore and kind of a down spot of the day, which is the exact opposite of what it is supposed to be - something positive that lets you reflect on the good things. Once I stopped doing it, then each time I would think to get back to it, I would tell myself I was too tired, or tomorrow would be a good day to start back up. Well, I finally decided that now is the time to do it (honestly the whole mess of the drive to Indy kind of gave me the kick in the butt, because goodness was I grateful that we made it through in one piece!). I thought I would give it a try in the mornings, after my devotional. I first do my devotional, then take a few minutes to think back to the day before and write down the good / what I was thankful for. And while I just started, I really think this is something that is going to stick and make each day a little better!
I can never said no to a good garage sale find. When my mom and dad text me a picture of this little rack / shelf and chair yesterday, I couldn't help but say yes. I am thinking the hooks will be great for the guest room, or even the office area with a basket and wreath. The chair has such neat detailing, I think cleaned up a bit it would be so cute in a corner somewhere. And for $16 total, you can't really beat that!
Back to the fall talk, I broke out my more 'fall' nail polish this week. Matter of Fiction has been my go to for awhile now, and while I still love that color (super light pink), I felt like it was time for something a bit more subtle and neutral. Grabbed an oldie but goodie, At the Barre, and it's exactly what I was going for. The color of the bottle online is a bit misleading - it looks kind of peachy to me, but it's definitely more of a tan color. And for my toes, I opted for my go to transitional color, Eternal Optimist. This is kind of a dusty rose color and I feel like it is one I reach for when it starts to get close to spring and fall!
I shared some recent LOFT purchases on Wednesday's post. I got everything in this week, and here are my thoughts.
Keeping:
Ruffle V-Neck Shell. This was one of the tops I was most excited about and it did not disappoint. Such a pretty green color and the fit is great!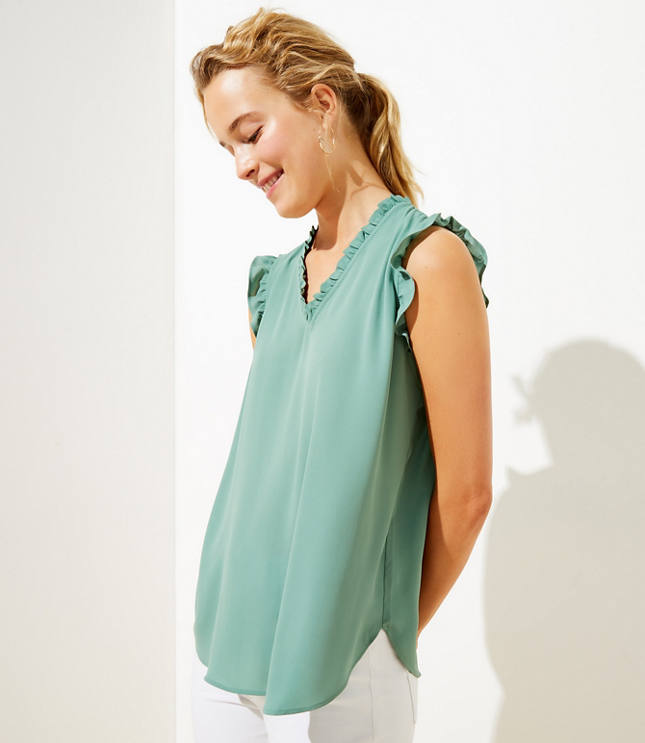 Floral Tile Mixed Media Henley. After I ordered this, I kind of regretted it. I just didn't think I would love it. And even felt the same when I got it out of the bag. But, as soon as I put it on I was sold. It fits so very well, and it just look so good on!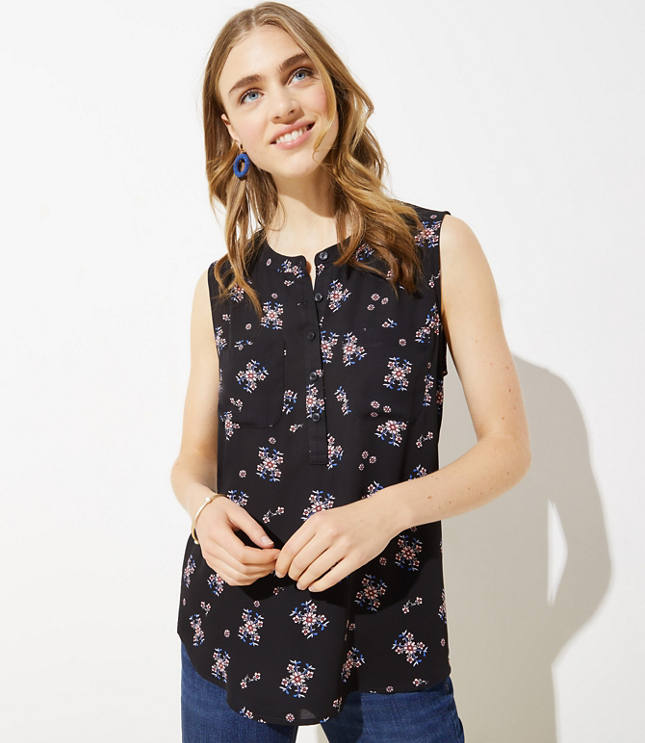 Buttoned Petal Sleeve Top. This was the other top I was so very excited to get. I grabbed it in cream, but it only seems to be available in mustard and red. Such a pretty top!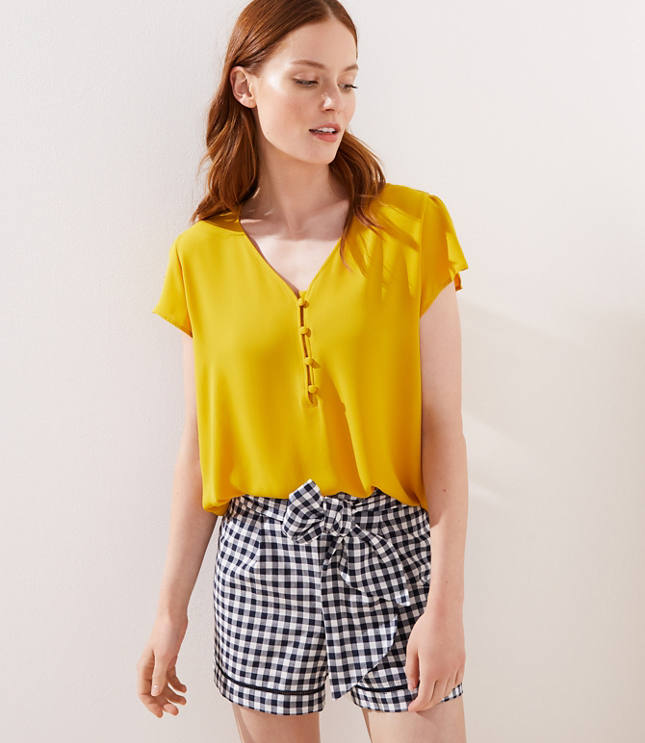 Returning:
Leopard Print Tie Waist Midi Skirt. This skirt was a little out of my comfort zone, and while it was super pretty, I just don't know if I would get the wear out of it. Also, I liked some other piece better, so back it goes. One thing to note on the sizing - I am about 5'3" and ordered the petite, which I would recommend to anyone my height or shorter.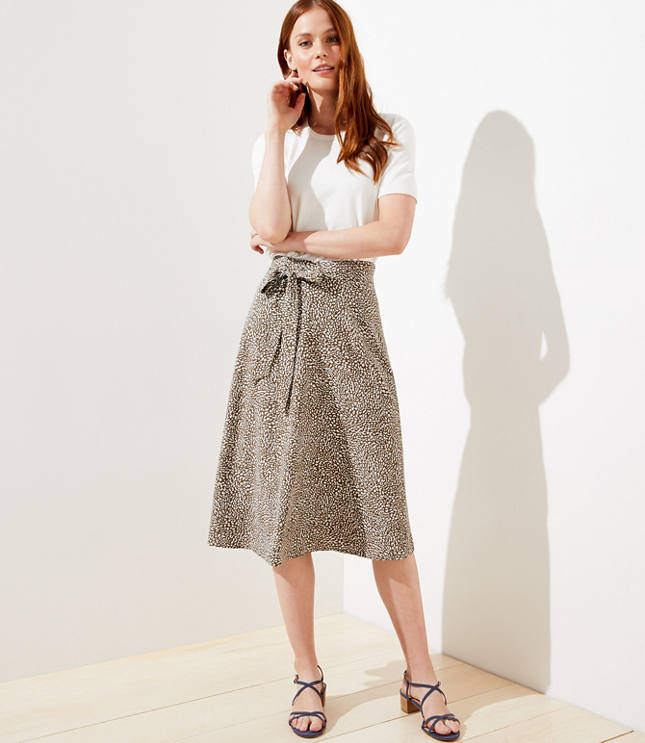 Cheetah Print Short Sleeve Sweater. This top was a big, fat no - it did me no favors whatsoever. I honestly can't pinpoint what exactly made it so unflattering - I tried it untucked, tucked, and it just didn't look great on. A bit of disappointment, because I thought it would be such a fun add to my wardrobe!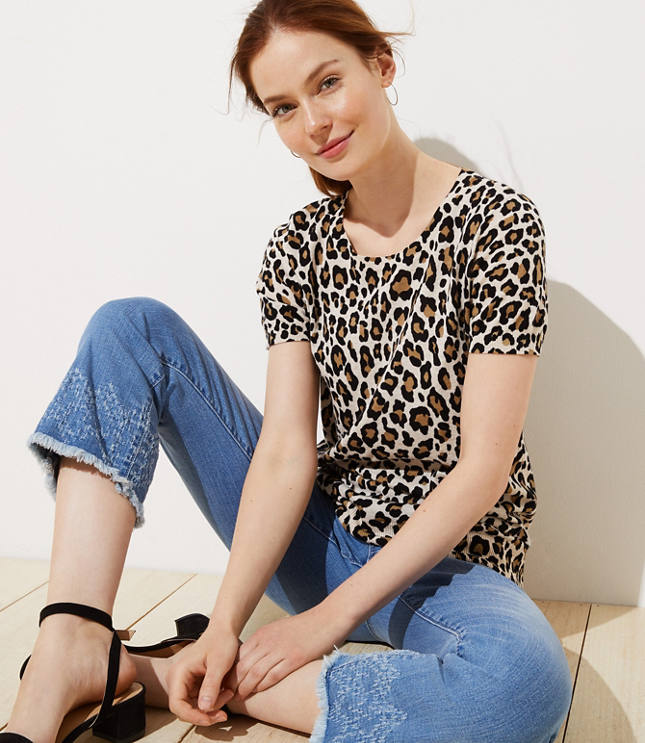 Still Deciding:
Swingy Open Cardigan. The fit and look of this is really nice, but the fabric is a bit different than I had anticipated. It's a little dressier, which would be good for work, but I don't know if it will wash well. Still up in the air on whether or not this is a keeper!
Mixed Media Ruffle Shell. The color of this shirt is really pretty - it actually kind of reminds me of the nail polish I mentioned above. I just can't decide if I should keep this, or the blue and white striped. Decisions, decisions!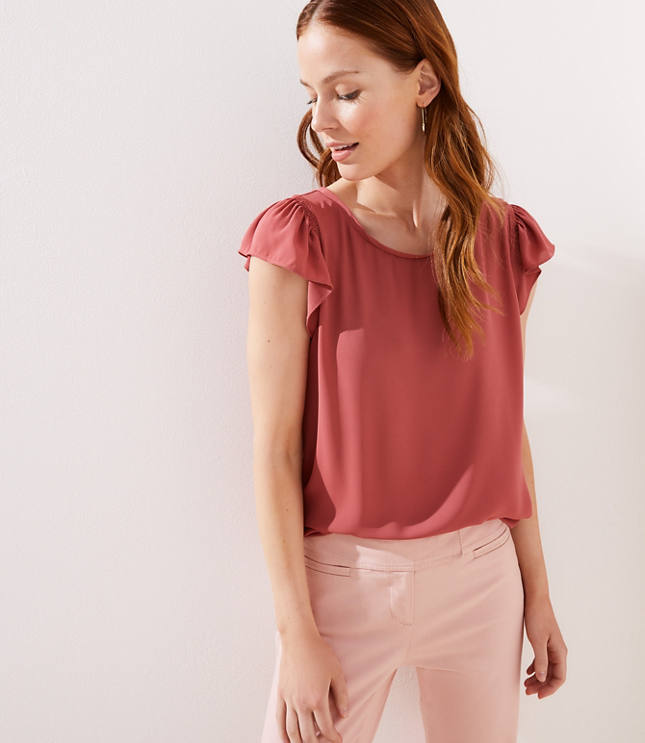 Striped Ruffle Henley Shell. As I mentioned, I am trying to decide between this top and the one above. It's super cute, but I do have two other shirts this exact same style, so I am not sure another one is necessary, even though it is blue striped.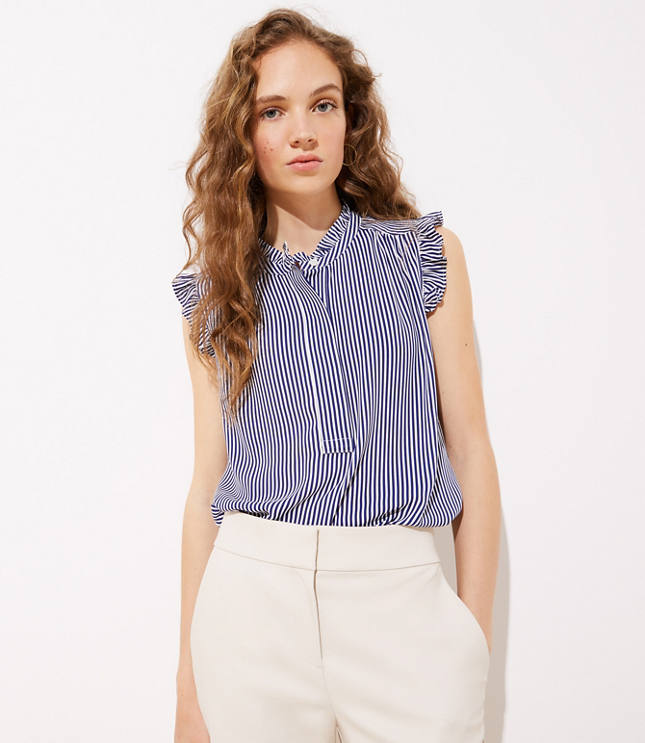 That's all I have for today. If you missed any posts this week and want to catch up, here are the links: