This post may contain affiliate links, meaning that any clicks/purchases may result in a few cents of commission at no additional cost to you
.
Hey all! Happy Friday. Like most weeks, I have been looking forward to the weekend. My left eye has been doing this weird twitching thing ALL week, and it's driving me nuts. I am hoping that the weekend will help to remedy that!
1. On Monday I became an aunt again. My brother and sister-in-law welcomed Baby Will to their family. Ahhh, I cannot wait until I get to see this little guy in person!
2. Next up on my favorites, is a new nail polish color. I feel like it's been awhile since I bought myself a new polish. I have loved the really light pinks - the ones that almost look white - on other people, so I decided to give it a go myself. And I love it! There were actually a few colors really close to each other, but holding the bottles against my skin, this color, Matter of Fiction, seems to be the best. It's funny how the colors can have such an impact. I have a few light options that my skin look really weird, like splotchy almost, so I was kind worried that a color like this might do the same. But it doesn't at all, and even makes my skin seem almost tan. Which is a feat, because I am pale, pale, pale, haha! I will note that I did three coats of polish before the top coat. I think I would have been ok with just two, but I really wanted it to be opaque.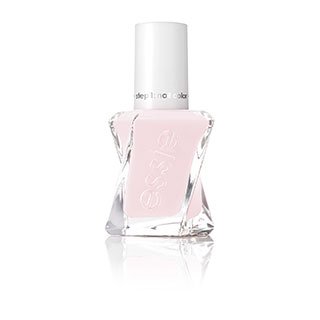 3. When I was a freshman in college, I went on a snowboarding trip. I got the cutest cream, pink, and gray snow boots that I just loved (which of course matched my pink and gray hat, pink mittens, and pink muffler). After that trip, I didn't get to use them all that much, but every once in awhile I would pull them out. They were just super handy to have. And especially handy this winter. I have used them so many times with all the snow we have gotten. But after 15ish years, they were showing their age. The outer coating was cracking and even breaking off. It's a little silly how sad I was that these boots needed to get the boot! But, it was good timing, because just as I was noticing their demise (a little dramatic, no?), my friend and I went out to lunch, and she had the cutest Sorel boots on! She said she got them for a trip, walked all over the place in them, and they were really comfy and warm. Sign me up! Yesterday we had more snow, and that was what I needed to actually hit the place order button on them. I ended up with the 1964 Pac 2 boots. They are on sale right now, and with shipping, they come to right under $100. I have only heard good things about Sorel boots, though, so my hope is that they will last for a good long time. I also had my eye on the Caribou boots and the Slimpack II boots. The Caribou boots seemed a bit too clunk, and I figured the heel on the Slimpack II, while cute, was probably a little impractical. And while I am ready for spring to get here, and the snow to stop, I wouldn't mind if we got one more snow after these arrived so I could test them out.
One more thing on winter boots. I have a pair of Hunter boots, which my first thought was I would just use those for 'snow' boots, too, since I have the fleece inserts to go with them. I tried that and my feet were freeeeeezing right away. I love my Hunter boots and wear them surprisingly often, but for true 'snow' boots...I just don't think they cut it.
4. I have mentioned on here multiple times that I love weddings. And more specifically, I LOVE family weddings. My dad's side of the family is pretty large, and when everyone gets together it's a great time. Especially at weddings - everyone's catching up, dancing - it's just great! Well, one of my cousin's is getting married this weekend. I had planned to go, but I HAVE to be back on Sunday for something, and with the weather it just isn't going to work. Which really stinks. Both because I had said I was going, and because I would be missing out. But, it reminded me of one of my favorite things we do at family weddings. I don't know how this got started (I really need to ask), but my family lovessss Bon Jovi. At every wedding, Livin' on a Prayer is played and ALL the family members get out on the floor, sing our hearts out, and just have the best time. I think I am going to have to have my own little dance party Saturday night - if I can't be there, at least I will be there in spirit!
5. This week dinner was all thanks to Trader Joe's. I shared a few of my favorites on Tuesday (post here), but I have a few more items to mention that I ate on this week. Jalapeno Chicken Sausages, Shredded Brussel Sprouts, Butternut Squash Zig Zags, Chicken Shawarma, and Tabbouleh. Yum, yum, and yum! That store is just my favorite.
Linking up with
Whitney
,

Erika
and
Andrea.